Popular products
New Kitl products 2020
New twins Kitl Orange syrup and Lemon syrup
We have prepared new citrus syrups. Try the new Kitl Lemon Syrob with pulp and new Kitl Orange Syrob with pulp. 
They are refreshing and are great for preparing homemade lemonades, cocktails, but also for popsicles and for flavoring desserts.
Recipes for drinks, cocktails and others can be found in the Recipes.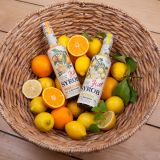 More about new Kitl syrups
Our awards